NOMID Efficacy
KINERET efficacy in NOMID patients
In a long-term study, KINERET was shown to reduce NOMID symptoms and inflammation1
KINERET was studied in a prospective, long-term, open-label study of 43 patients with NOMID, 0.7 to 46 years of age, treated for up to 60 months.
Overall diary symptom sum score (DSSS) and each of its symptoms rapidly improved and was maintained over 60 months1
The figure shows mean values for observed cases at all given time points. ITT observed cases (N=29)

Results for this endpoint were consistent across all subgroups including age, gender, presence of NLRP3/CIAS1 mutation, and disease phenotype

Treatment with KINERET also appeared to be associated with improvement of, or stability in, other NOMID disease manifestations, up to 60 months

Central nervous system inflammation
Audiogram
Visual acuity

NOMID patients who were withdrawn from KINERET therapy responded again when treatment resumed
For the 11 patients who went through a withdrawal phase, disease symptoms and key biomarkers of inflammation worsened after withdrawal and promptly responded to reinstitution of KINERET therapy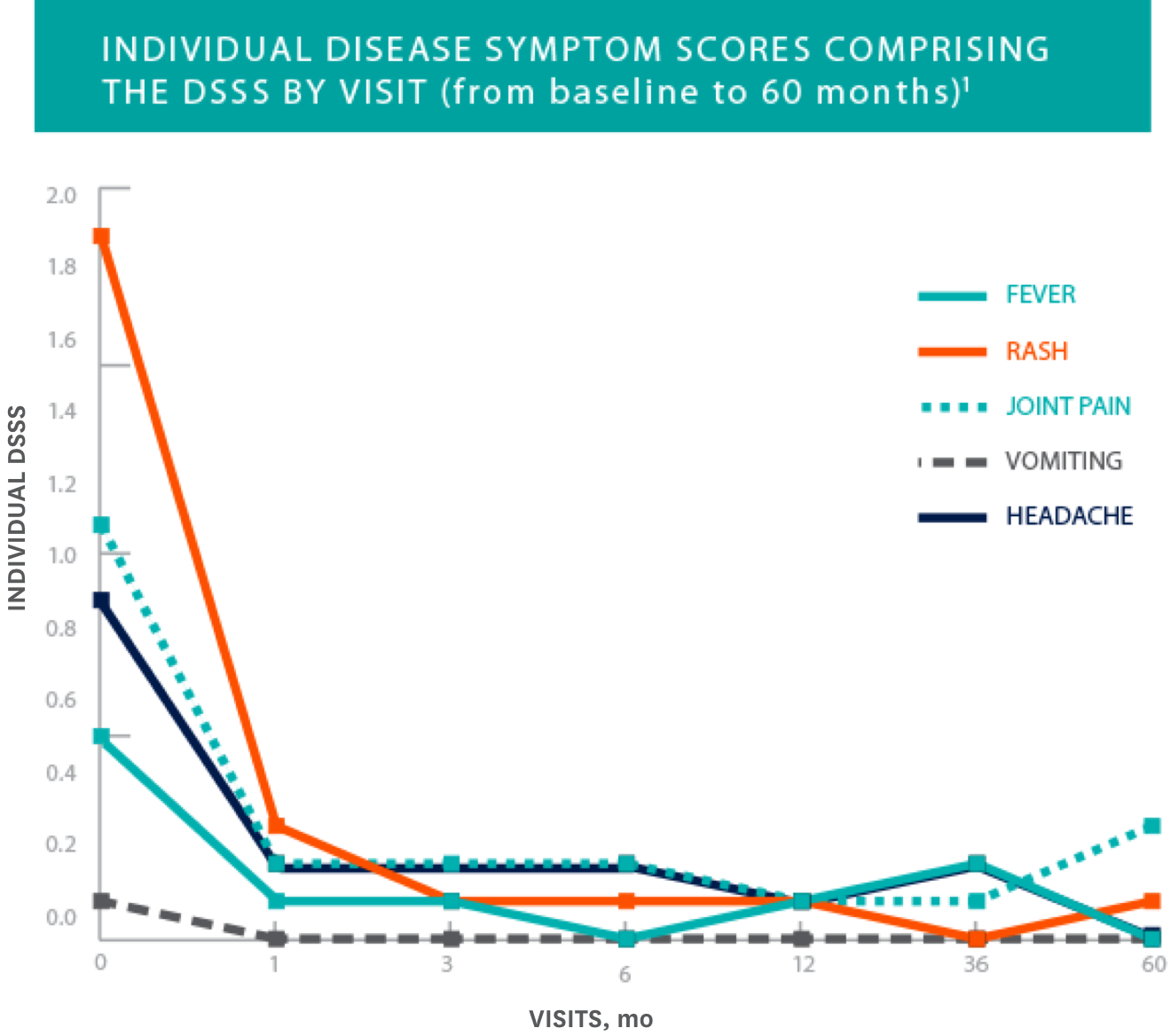 Study Design: Clinical efficacy and safety were determined by a prospective, long-term, open-label, uncontrolled study in 43 NOMID patients 0.7 to 46 years of age. Primary endpoints included change in disease-specific DSSS, including fever, rash, joint pain, vomiting, and headache, as well as change in the levels of inflammatory biomarkers SAA, high-sensitivity CRP (hsCRP), and ESR. Initial KINERET dose was 1 mg/kg to 2.4 mg/kg body weight, adjusted to 0.5 mg/kg to 1 mg/kg increments. The maximum dose actually studied was 7.6 mg/kg/day. The average maintenance dose was 3 mg to 4 mg/kg daily. The duration of treatment with KINERET was up to 60 months.
Systemic inflammatory markers were significantly reduced in all patients treated with KINERET2
Systemic inflammatory remission was achieved in all patients; however, remission and relapse continued to occur in patients with infections or stress3

Inflammatory remission was defined as CRP level ≤0.5 mg/dL, ESR ≤25 mm/hour, and SAA ≤10 mg/liter3

Patients had significant reductions in inflammatory markers from baseline at 6, 12, and 36 months and results were stable from 36 to 602,3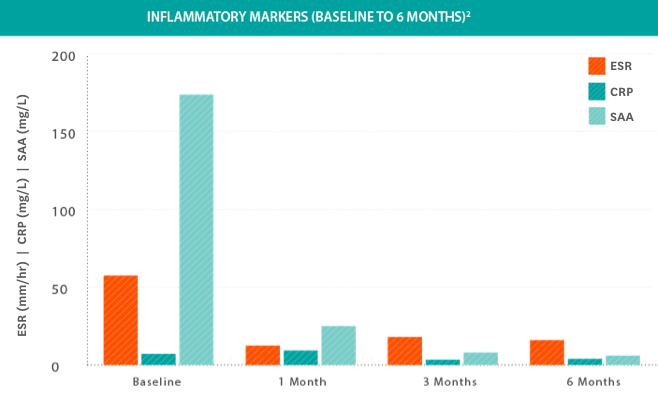 Study design: Clinical efficacy and safety were determined by a prospective, long-term, open-label, uncontrolled study in 43 NOMID patients 0.7 to 46 years of age. Primary endpoints included change in disease-specific Diary Symptom Sum Scores (DSSS), including fever, rash, joint pain, vomiting, and headache, as well as change in the levels of inflammatory biomarkers SAA, hsCRP, and ESR. Initial KINERET dose was 1 mg/kg to 2.4 mg/kg body weight, adjusted to 0.5 mg/kg to 1 mg/kg increments. The maximum dose actually studied was 7.6 mg/kg/day. The average maintenance dose was 3 to 4 mg/kg daily. The duration of treatment with KINERET was up to 60 months.3